Dr. Jiten Patel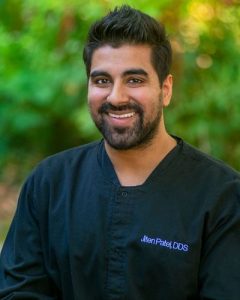 Dr. Jiten Patel was born in London, England and moved with his family to Atlanta, Georgia in 1995. After graduating from the Georgia Institute of Technology, Dr. Patel received his Doctor of Dental Surgery degree from the State University of New York at Buffalo in 2012. Dr. Patel then completed a one-year General Practice Residency at the Philadelphia VA Medical Center. He now resides in Delaware with his wife Prachi, an optometrist, and their two sons.
Proficient in all phases of general dentistry, Dr. Patel provides comprehensive care to his patients. "I'm thorough, and I like to educate my patients on the procedures as well as their oral health," Dr. Patel says, "I always provide the highest possible quality of treatment I can."
Dr. Patel is a member of the American Dental Association and Academy of General Dentistry where he is currently working towards his fellowship. One thing that distinguishes Dr. Patel is his constant thirst for knowledge. Never satisfied with the status quo, he is always trying to learn more and better himself as he believes patients deserve to be treated with the most up-to-date techniques using the latest technology. Come find out what new procedures and technology Dr. Patel has to offer!

Pamela Aquilani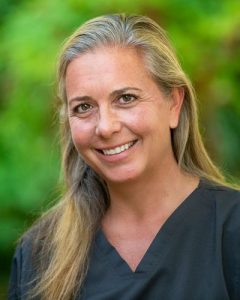 Pam is the longest standing employee of Family Dentistry of Milford. She has been part of the team for thirteen years. Born and raised in Pennsylvania, Pam moved with her family to Delaware in 2006 and thoroughly embraces the beach life here. In her downtime you will find her relaxing on a local beach, paddle boarding, kayaking or biking the many trails throughout the Delmarva Peninsula.
Pam oversees all of the ordering and organization of the back office and is the official Family Dentistry of Milford staff photographer. The favorite part of her job is interacting with the patients, making them feel at ease and ensuring they leave with a smile.
Pam is newly engaged to the love of her life, Tony and she has two beautiful daughters, Hannah and Sarah. In addition to her career as a dental assistant, she is also a professional photographer for many clients throughout the area.
When she is not assisting Dr. Patel, chances are she's enjoying the great outdoors, dining with her fiancé in one of their favorite restaurants or traveling both locally and across the country. Pam thoroughly enjoys her work with Dr. Patel because as she says, "I love our patients and helping them with their dental needs".

Stacy Vosbury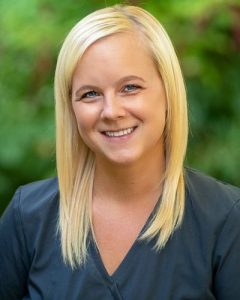 Stacy has been at Family Dentistry of Milford just shy of 14 years, but in the dental field for almost 17 years. She cannot imagine herself doing anything else. Stacy loves being a dental assistant and loves working alongside Dr Patel. Interacting with the patients is the reason she loves to come to work every day, Stacy gets great satisfaction from helping people. She loves her co-workers, who over the years have become like family, and Stacy often provides the comic relief for the entire office.
Stacy was born in Annapolis, Maryland, but has lived the majority of her life in Delaware. She has a twin sister, Natalie, and they have been known to play tricks on people by switching places. Stacy's son, and her pride and joy, Owen, entered middle school this year and he definitely keeps Stacy on her toes. Outside of the office, Stacy spends time with Owen, and her big extended family. She enjoys the beach life here in Delaware, camping, boating and being a great mom to her son, Owen.

Ashley Erickson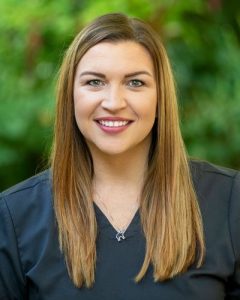 Ashley is an administrative assistant and has been a member of our team for 10 years. She has over 13 years of experience and loves helping out the clinical team whenever she can. You may see her taking x-rays or cleaning rooms, as well as answering the phones and helping patients with their insurance questions. Ashley's favorite part of her job is when patients accept their treatment plan and understand the importance of maintaining good oral health.
Ashley was born and raised in Delaware and has lived here most of her life. She spent four years overseas in Germany, but found herself back home to be with friends and family. Ashley spends most her free time with her husband, JJ and their son, Oliver. They like to go to the Milford farmer's market and Oliver likes going to any playground he sees. Ashley is currently pursuing her business degree at Delaware Technical Community College.

Megan Timmons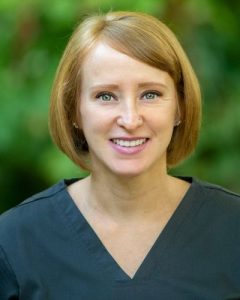 Megan was born in Florida shortly before her family relocated to Delaware, where she grew up. She now resides in Harrington with her husband and growing family. At an early age, Megan knew she wanted to become a Dental Hygienist and pursued this course directly out of high school. She graduated from Del Tech's Dental Hygiene program in 2009. She went on to obtain her Bachelors in Dental Hygiene from the University of Maryland School of Dentistry in 2012 and taught part time for 4 years as a Dental Hygiene instructor. With over ten years experience, she enjoys her role in healthcare and making people smile. In her spare time she enjoys traveling with her family and reading.

Nancy Price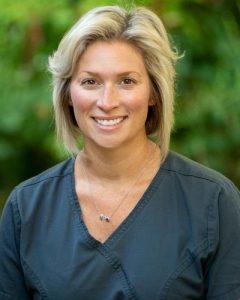 Nancy is one of our hygienists that may be a new face to some, but familiar to others as she has returned to our practice, and we are excited to have her back! Her outgoing personality makes our office a fun place to be, for both patients and staff. Nancy is a Delaware local from the Lincoln/Milford area. She attended Milford High School, and then went on to complete her Associates Degree in Allied Health and Science at Delaware Technical Community College. While there, she received the Most Outstanding Clinician Award.
Nancy has been practicing dental hygiene for 15 years. Her goal is to make patients feel relaxed enough to enjoy their visits to the dentist by laughing and putting them at ease. She loves making her patients feel comfortable by listening to and addressing their concerns. Nancy enjoys spending sunny days on her boat in Ocean City with her family and friends. When she's not enjoying the summer sun, she plays softball for her church. She resides in Bridgeville with her husband Wayne, her daughters, Addison and Jordan, and their dog Chance.

Michelle Groshong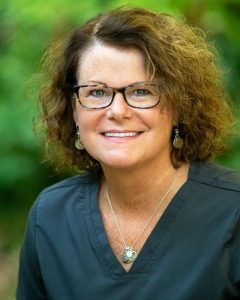 Michelle is an administrative assistant and joined Dr. Patel and the Family Dentistry Team in June of 2019. She was born and raised in Portland, Oregon, spent time in Denver, Colorado Springs, and Montrose, Pennsylvania and is super excited to now reside in sunny Delaware. She and her husband, Mark, moved to Milford just this past May and they both are looking forward to experiencing all the East Coast has to offer. They have 2 grown children, Joe and Meghan and a 1 year old grandson, Jace.
She has worked in the field of dentistry for 20 plus years, and has worked both as a dental assistant and in the front office. Michelle's favorite part of her job is getting to know the patients. Her interests outside of the office include spending time with family, the beach, boating, bike riding, running, experiencing new restaurants and being entertained by her golden retriever, Mia.